12+ Free Bootstrap Admin Templates and Dashboard UI Kits for Web Developers
1097 Views
It's just as important to get the look of your site's dashboards and admin areas just right as it is to get the look of your front-end pages just right. Designing and creating all of those pages and layouts for your back-end areas, on the other hand, can take a long time.
Hopefully, this collection of the Best Free Admin Dashboard Templates can help you with that. These packages not only include appealing pre-built templates and demos for your dashboards and admin sections, but they're also easy to customize.
This collection of Bootstrap admin templates will assist you in ensuring that your dashboard pages have a design that will appeal to your target audience.
We have Free Admin Template, Admin Templates & Dashboard UI Kits, Free Bootstrap Admin Templates, Free Admin Dashboard Templates, and more. Enjoy!
Best Free Admin Dashboard Templates
Sofbox Admin Lite – Free HTML Admin Dashboard Template
Softbox Admin Lite – Free HTML admin Dashboard template has an intuitive and user-friendly layout with easy-to-use and eye-catching panels.
Analyze everything from finance to sales and revenues to expenses with this well-designed Free Bootstrap Admin Template, and calculate the sales and production strategy for the next quarter. Softbox Admin Lite is a free HTML admin template for businesses that features embedded analytics and reporting, allowing marketers to track and evaluate performance more effectively.
The free Bootstrap admin template includes pre-coded and pre-designed inner pages so you can get started customizing right away. The free HTML admin template makes it simple for organizations to turn data from any source into relevant KPIs.
Datum Lite – Free CRM HTML Admin Dashboard Template
Datum Lite is a free Customer relationship management administrator template that can be downloaded. This template can be used by businesses, advertising, directors, offices, and consultants. The free CRM Bootstrap admin template is developed with the Bootstrap framework to give the marketer a realistic view.
Customers' demands, customer behavior toward the product, if the marketing campaign is aligned with the company's purpose, preferences, and touchpoints are all monitored using the free CRM Bootstrap admin template. Datum Lite is a Free CRM Bootstrap Admin Template that can be used by enterprises, marketers, managers, agencies, and freelancers.
Track, monitor, and adjust the strategy to maximize customer relations and ultimately enhance sales by optimizing every aspect of customer relations across touchpoints. Datum is one of the greatest free administrative dashboard templates.
Datum Lite is a free CRM HTML admin dashboard template tool that highlights vital facts and delivers useful insights for improved CRM planning in a compact way.
TecDig Lite | Free Admin Dashboard Template for Marketing
TecDig Lite is a free admin dashboard template for marketing managers and businesses to track social media, advertising, emails, and campaigns.
With a ready-to-launch, free admin dashboard template for the Marketing department or managers, you can oversee marketing performances, advertising, and planning, enhance sales, and shoot up the company's productivity.
With TecDig Lite, a free Bootstrap Admin Template for Marketing, you can manage enormous volumes of data and maximize ROI using marketing metrics. TecDig Lite – a free admin template for marketing is developed with pre-made layouts and UI features to make this reporting tool efficient for any niche domain, based on data visualization trends. One of the best free bootstrap admin templates is TecDig Lite.
When using TecDig Lite – a free Bootstrap admin template for Marketing, there is a lot of potentials to improve and raise the dashboard tool's usefulness.
Nairobi – Free Bootstrap 5 Gaming Admin Dashboard inspired by Money Heist
Nairobi – Free Bootstrap 5 Gaming Admin Dashboard is pixel perfect and attractive to other Money Heist lovers, with editable text and photos. This Free Gaming Admin Dashboard Template covers a wide range of gaming admins, as the Spanish heist thriller gained a space in our hearts and on the mobile gamers market.
Nairobi – With customizable text and photos, the Free Bootstrap 5 Gaming Admin Dashboard is pixel perfect and engaging to other Money Heist fans. As the Spanish heist thriller took a hold of our hearts and the mobile gamers market, this Free Gaming Admin Dashboard Template caters to a broad range of gaming administrators.
You can manage participants and games using the pre-designed and pre-coded admin interface. Nairobi's free gaming admin dashboard can assist you in providing gamers with outstanding gaming experiences.
The pre-designed and pre-coded admin interface allows you to manage players and games. Nairobi Free Gaming Admin Dashboard may help you create unforgettable gaming experiences for gamers.
Hope UI Figma, XD – Free Open Source UI Kit
Are you planning to build a new web application for a personal project or for a client? Hope UI – Bootstrap Admin UI Kit can assist you in quickly developing a complete and understandable admin dashboard.
Hope UI is a free Bootstrap 5 admin dashboard UI kit. It's a beautifully designed pre-built UI kit with a clean and modern design framework.
Hope UI's adaptability and flexibility allow it to be used to create projects with a variety of data and information types and sizes all in one place.
This top free Bootstrap 5 admin UI kit includes pre-built components such as panel layouts, modules for storing data and information, and a dashboard for managing and monitoring huge performance insights. This free Bootstrap 5 admin UI Kit is completely responsive and user-friendly, making it simple for Hope UI users to use.
Soft UI Dashboard
Soft UI Dashboard is the most complicated and imaginative dashboard, created for users who appreciate strong components and attractive websites.
It's made up of over 70 frontend individual elements, such as buttons, inputs, navbars, nav tabs, cards, and alerts, that you can mix and match. All components can have color variations, which you can easily change with SASS files and classes.
NextJS Material Dashboard
NextJS Material Dashboard is a free Material-UI, NextJS, and React administrator with a cutting-edge appearance propelled by Google Material Design.
We're delighted to share our perspective on material ideas with you in the form of a simple and attractive set of components which are 30 unique elements, 2 bespoke plugins, and 7 sample pages It also has 5 color filters (blue, green, orange, red, and purple) for the sidebar and card headers, as well as the option to put a backdrop picture on the sidebar.
Xtreme – React Admin Lite
Xtreme React Admin Lite is a 2019 admin template that has been thoroughly created. If you need a modern and clean admin template for your backend project, Xtreme Admin is the best option.
It is constructed in a modular and trendy style. Downloading and using Xtreme React Admin Lite for personal projects is entirely free.
Architect – UI Dashboard Vue
Vue/cli 3.4.1 and a Bootstrap 4 Vue implementation are used to create ArchitectUI Vue.
It comes with 15 Vue widgets and components that are all well-integrated to establish a consistent design language.
You'll need at least basic coding abilities to use this Vue theme. Don't worry, the theme's coding is simple, and the navigation links are powered by Vue Router.
Monster
Monster Admin is a well-known open-source WebApp template for admin dashboards and control administrator boards. Monster Admin is a completely responsive HTML template built using the Bootstrap 4 CSS framework. 
Its design contains all of the Bootstrap components and restyles numerous commonly used plugins to produce a unified look that may be used as a user interface for backend applications. Monster Admin is designed on a modular design that makes it simple to customize and extend.
AdminKit
AdminKit is a Bootstrap-based admin template containing hundreds of user interface components, forms, tables, charts, pages, and icons. AdminKit helps up the creation of your next Bootstrap project.
It can be used to develop a SaaS-based interface, an administrator dashboard, or any other web-based application. AdminKit allows your team to work more efficiently while reducing development costs.
Neumorphism UI Bootstrap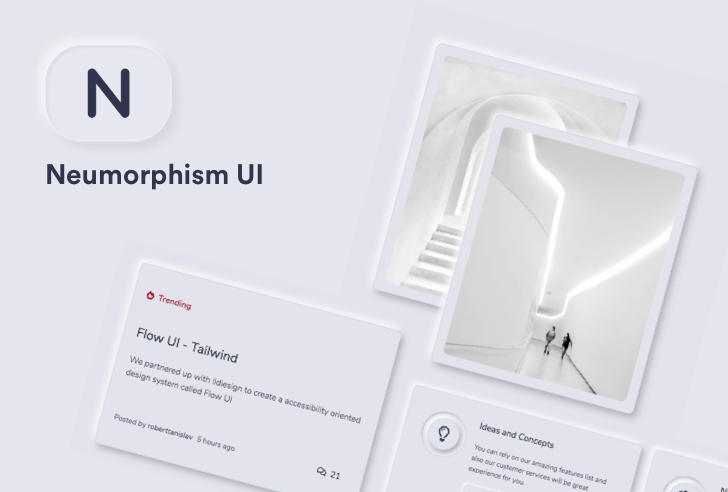 With this free UI Kit, you can start creating neumorphism (also known as neomorphism)-inspired layouts, web apps, and pages. There are approximately 200 individual components in all, as well as five example pages.
The original neumorphism design standards are used by Neumorphism UI. The shadow inset style add-on is also included. Timelines, profile cards, pricing cards, call-to-action sections, and many other neumorphic components are included.
Material Tailwind
Dashboard for Material Tailwind Tailwind CSS and React admin template React is a stunning, open-source Tailwind CSS and React admin template. It's based on the well-known Material Kit, and they're both influenced by Google's Material Design.
This lovely admin panel comes with 120 completely coded components and four example pages to help you quickly and easily create an admin panel. Material Tailwind Dashboard React also has 5 color filter options for the sidebar and card headers, as well as a background image option for the sidebar.
Conclusion
The Best Free Admin Dashboard Templates for Web Developers are listed above. We really hope you like them. The templates above will assist you in quickly and easily creating a pleasant dashboard design.
If you like our article then, Subscribe to our newsletter for the latest themes, templates, and UI Kits to let you build a successful web project without painstakingly dealing with coding skills. Also, Subscribe to our YouTube channel for quick video tutorials and follow us on Facebook and Instagram for quick tips, educational posts, infographics, and a lot more.
Was this article helpful?