Top 10+ Premium and Free Software Landing Page HTML5 2023
579 Views
Nowadays everything is getting online, and we can get almost whatever we want with the help of the internet. In this generation, Online business also plays a vital role in the expansion of business. Every entrepreneur needs a free software landing page HTML5 that helps them achieve their ambitions.
This free software landing page HTML5 is a kind of new way to reach out everywhere and present their service and offerings digitally and helps them to expand their business. 
As I said earlier, every entrepreneur dreams of expanding their business. I mean who doesn't dream about it. Right? This Free Responsive Software Theme is the backbone for an online business. There are lots of free software landing page HTML5 which are available online but they are not good quality, it is inflexible, for this software people are not most in its favor. 
But we believe in putting our customer's reviews as our first priority. And we bring you the best free software landing page HTML5 which is more flexible, comes with A1 quality, and is ready to fulfill your requirements. Our design will work as we promised because that's the only way we can come to the top by bringing you the products which can fulfill your need. 
Below, I'll present you the Top Free Software Landing Page HTML5 2021. 
Softbox Classic | Free Software Landing Page HTML5 Page  
Softbox Classic is a Free Responsive Landing Page HTML Template that is designed for online service providers. Using this Free Software Landing Page HTML5 Template the developer can initial a page for their service offerings or can show their service/offerings to new consumers. 
Softbox Classic presents features like a large graphic banner with a header with a title at the top followed by text, images, buttons, etc. 
Softbox Classics Free Landing Page Template Bootstrap focuses on visitors and keep their attention on the first page as soon as they land and softbox classic is one of the most popular software template on ThemeForest. Softbox Classic also Assists multiple marketing and promotional initiatives one at a time by a company and agency.
The Best Free Website Template seizes leads coming to the site and it targets certain contents to a specific set of audiences. Sites that are built with softbox classics are the Best Free Responsive Website Template that accommodates the site faster. This site builds with strong bootstrap and responsive layout with multiple website template layout can make a more long-lasting business Website. 
This Free Software Landing Page HTML5 Template is bundled with three Home Pages – Classic, Simple and fancy, Softbox classic has lots of new features to unbox. 
Softbox Classic has an enlightening designed and is built with ready-to-use inner pages like the About Us Page, Service Page to display service offerings, Add team with team dedicated page, Pricing plan page, latest blog page layout, and contact page so consumers can operate the site easily and can target a higher rate of consumers. 
So What Can You Accomplish With Softbox Classic | Free Landing Page Template Bootstrap?
Softbox Classic – Free Landing Page Template Bootstrap can be used to launch new projects like software as service websites, CRM and ERP related sites, Point of sale/ payment processing solution sites, Artificial Intelligence, Internet of solutions connectivity solutions, web development and designing agency site, Data Migration, and Upgrades Landing Page, and Infrastructure Support Services Site with it's evolved and adaptive interface. 
5 Advantages for having SoftBox Classic – Free Responsive Landing Page HTML Template 
This Free Software Landing Page HTML5 Template Serves as Mate and finds how well content works and its strategy on the landing page.
Using Free Landing Page Template Bootstrap comes with enough space to draft a conversion-real website with the help of its clear UI design.
SoftBox Classic – Free Landing Page Template Bootstrap comes with everything. with the help of technology-advanced layouts, every page is very alluring and catchy. 
SoftBox Classic – Free Responsive Landing Page HTML can be operated easily and it allows any new consumers or non-coder to work and build a new elegant website in a couple of minutes. 
It comes with the most appealing design and responsive text layout this makes SoftBox Classic is one of the most liked templates to launch a new website. Softbox is also available in different versions.
Gaas Soft
Gaas is a Soft free software landing page HTML that keeps up with the latest web trends and tech regulations.
Gaas is the most modest and cleanest web design which looks more elegant and attentive at the same time. you are just one signature touch away from easily standing out of the competition. if possible share with more users and they will be familiar with our program and can use all of its benefits for using our Gaas Free Responsive Landing Page Template.
With such a Hi-Tech and most responsive layout, Gaas makes sure to help most of it user can easily operate it without any trouble. Gaas makes sure that its users are hooked to it no matter what device they are using it from.  
Gaas the Free Landing Page Template Bootstrap is united with all of the major web browsers, retina-ready, and tuned in the finest way possible way for giving a great performance. And more Gaas Even has more other assets like pricing tables, hover effects, functional contract form, and a trendy blog section.
FlexBox Corporate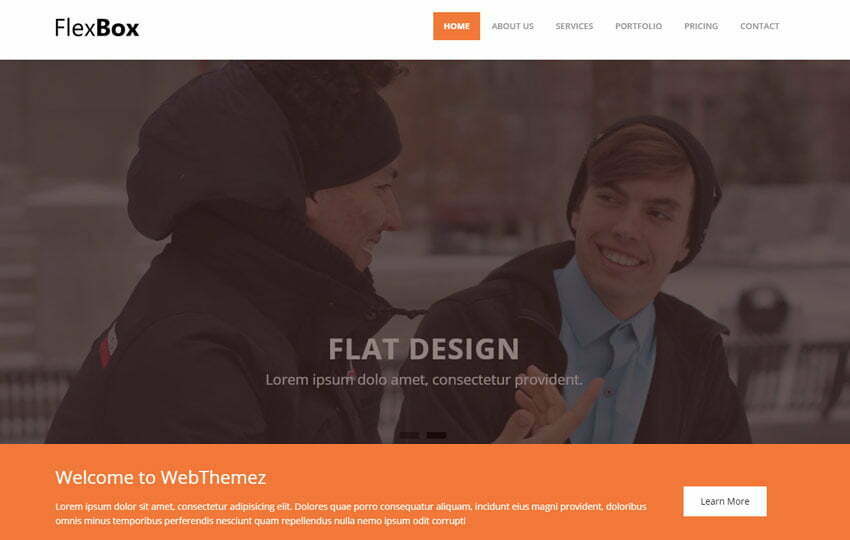 FlexBox Corporate Free Bootstrap HTML5 Web Template is the cleanest template which is built with valid HTML5 and CSS3. It is based on the fresh bootstrap framework 3.3.6 fully responsive layout and fully customizable.
FlexBox also has a web compatible with multiple browsers and devices. it comes with a 100% responsive layout design, font awesome, smooth scrolling, working contact form, in short, you can operate easily even if you are a non-coder. 
As said before, you can use it with multiple browsers. you can use it when you have multi-purpose needs like website, business website, consultancy, agency, personal portfolio, profile, mobile website, and startup company. 
You will be able to update this template easily with the quality of code.
Appru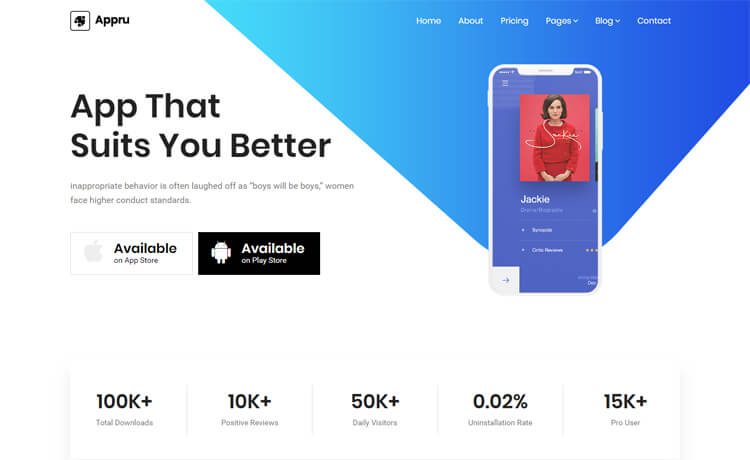 Appru is a free bootstrap landing page template for mobile and web apps. It comes with a responsive multi-page theme with a clean and kempt design. It has simple look but it comes with a modish innovation and impressive features in it. 
Appru Free Bootstrap 4 HTML5 App Landing Page Temlplate comes with a hover effect and gradient background which makes it look more magnetic. It is a fully responsive template, which helps a website to look perfect-fit on any screen size. 
Appru also has many other features like Cross-Browser Optimized, Drop-down menu, fun fact counters, call-to-action-buttons, 10+ UI elements, Working PHP/Ajax contact form, Google Form, etc. It has many more other features which make it easier to operate.  Flexible customizable options turn Appru into a highly consistent template. 
Digit
Digit is a web template build with valid HTML5 and CSS3. It is a responsive template with a flat design for the multi-purpose landing page. 
Digit comes with multiple features like 100% responsive layout design, multi-purpose theme, google fonts support, font awesome, smooth scrolling, etc.  
Digit is based on the latest bootstrap framework 3 fully responsive web compatible with multi-browser and device. This template can be used in multi-purpose needs like the Mobile app, landing page, Software product display, Business, Agency, Consultancy, Personal Portfolio, Profile, Mobile Website, and Start-up Company. 
Line App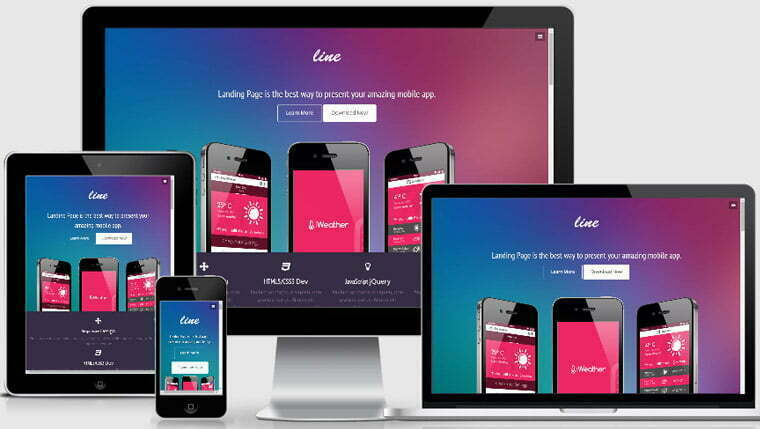 Line is a multi-purpose landing page designed to showcase your web, Mobile App, New Products, Modules, Plugins, and others. This theme is built with Bootstrap3.2.0 framework with HTML5 and CSS3. This makes the template easy to customize and use it.
It has a fully responsive layout and looks elegant on every device like Notebook, Desktop, Mobile, and Tablet. 
Line also comes with many features like  Twitter BootStrap3.2.0., clean and developer-friendly HTML5 and CSS3 code, CSS animation, 100% Responsive Layout Design and etc. Line Landing Page is the way to present your mobile app. 
Lucy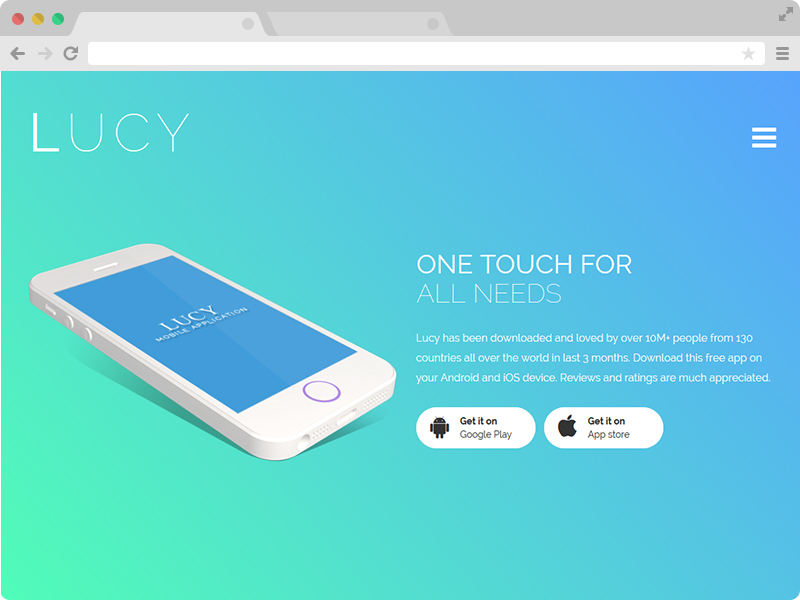 Lucy is nicely crafted with HTML5, CSS3, and Bootstrap. It is a free responsive designed template by Themewagon. It is one of the most liked free responsive bootstrap app landing template. 
It has a clean and most elegant design with an outstanding CSS3 and iQuery Effect. It has some unique designs which are designed by our experienced designers. With the help of nice formation from lucy, your visitor or your potential customer will be impressed. Some Eye-catchy animations will make your template more magnetic. Your visitors or potential customers can easily gain information bout everything in one place. 
ThemeWagon designed this Lucy-free website bootstrap app landing page that your customer finds easy and will feel comfortable while operating it. 
Whatever you have designed can be viewed web browsers should have a mobile design first implemented. CSS framework has introduced a responsive layout system. we have used bootstrap3 and its responsive grid system. 
App developer and game developer, marketer, lead generation service, showcasing your app can use this free HTML5 template.
Lucy is also known as SEO (Search Engine Optimization) It is easy to use and it is fully responsive and you easily will be able to customize it. Codes are well documented and W3C Validated. 
Boxer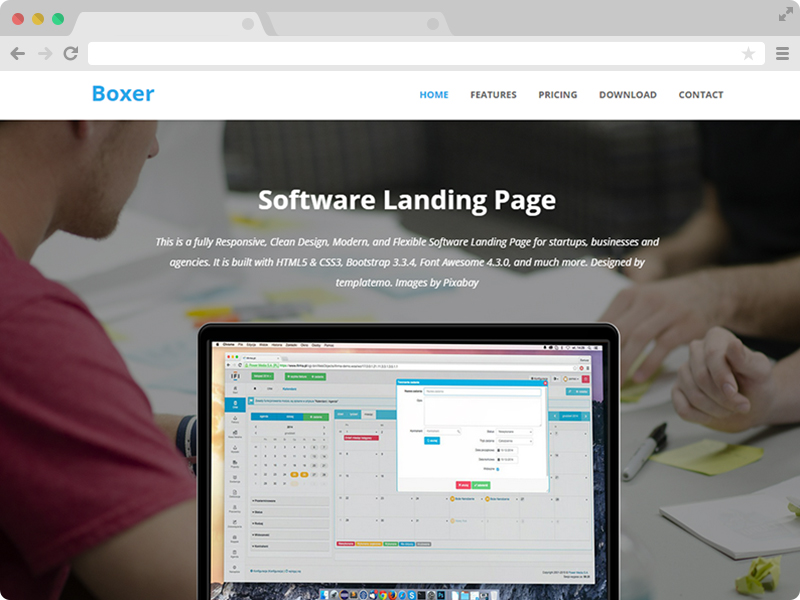 Boxer is a software landing page free HTML5 Template. It has been designed with HTML5, CSS3, and bootstrap and nicely decorated with jQuery and CSS3 animations and effects.
This free responsive template can be used to launch your excellent apps and games with details about it and pricing. so your potential customers can see your online presence. The developer even has added an active contact form too so that if your potential customers have any queries they can contact you and can reach you any time 
Software Landing Page Free HTML5 Template Boxer is designed to use by the software product owner. It is designed correctly with the help of HTML5, CSS3, and BootStrap powered responsive template so that you can save your time and money, you don't have to hire a professional developer. 
Boxer is fully responsive and it is adaptive to handheld devices like mobile phones, smartphones, tabs any desktops too. So that developer can resize it and can change it to any other device. 
Boxer is an SEO-friendly app. It also helps and takes this to another level. It also helps organically to get discovered by your customers. 
Boxer has an eye-catchy color scheme that looks elegant. It has text that appears on scroll animation. it looks more beautiful because it has a sticky menu bar on the top and a sticky header. This template comes with a well commented. It starts and ends with code. Even if you don't have code knowledge you can still operate it and know about it in detail. You can customize fully as per your requirements. In short, Boxer is one of the best Free Software Landing Page Free HTML5 Template and it is your time and money saver. 
Appley
Appley is considered one of the best template for agencies, businesses, mobile app, web app, startups, and also for marketing websites. It comes with a single-page layout and cross-browser compatibility. 
Appley is one of the most effective Free Responsive Landing Page HTML. It comes with the latest and effective features like hero header, sticky top navigation bar, pricing table, parallax effect, app screen carousel, and many other features that are included which help you to operate your website easily as per your requirement.  
It also has an incomparable and beautiful icon that comes from Font-Awesome icons. And all this doesn't end here Appley also has a fully working contact form with javascript validation. Appley's one of the best benefits is that it will assist you to build fast with the help of its intuitive and well-organized code structure.
Nexus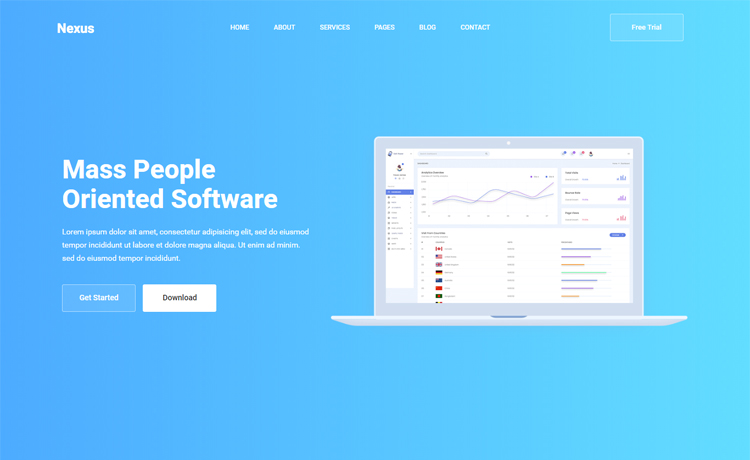 Do you want a newly evolved landing page, which looks more appealing and catchy? Then here I present you the Nexus – Free Bootstrap 4 HTML5 App Landing Page Website Template. It comes with a Multi-Page layout. You can use all varieties of apps like Saas and other software too. Bold Typography and Vivid colors make this template more stylish and modish. Nexus keeps up with its own evolution that's why it is updated with the latest trends and web technologies. It has all the essential assets which will fulfill all your requirements
Nexus comes with the most amazing features like sticky navigation, call-to-action-button, full-screen banner, drop-down menu, pricing table, hovering effects, 15+ Unique UI Block Elements, etc.  
The reason behind its Gassed-up Performance is that it is united with all major browsers and retina ready. Definitely, all these features will help you to level up your website and always it fully updated so you will be moving along with the trend. 
Download Nexus – Free Bootstrap 4 HTML5 App Landing Page Website Template and use to it achieve your ambition. 
Nova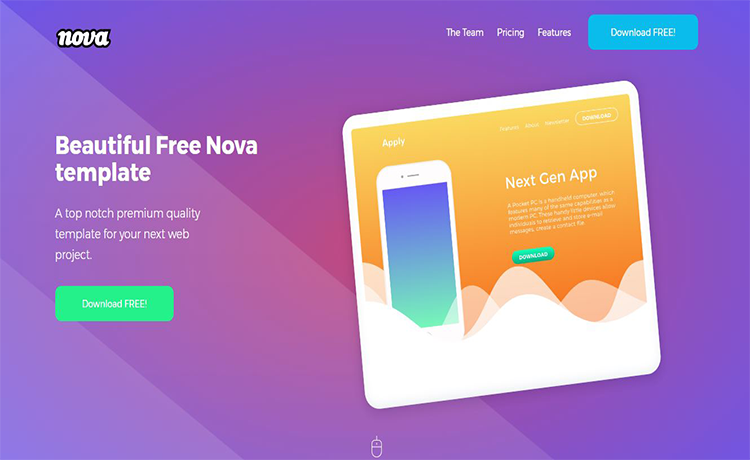 Nova is presenting the responsive and free one-page bootstrap template that has free project showcasing. Other than the Bootstrap framework it also has other web technology which helps it to perform faster and assist you to help your work done quickly and save your time. 
Hypothetically speaking, if you are going to use this mobile-friendly app landing page template for project showcasing. then here are some of the excellent benefits you are going to gain for your next project. You can give all of your thoughts on a one-page and your clients can read it all at one time. if you don't have a tight budget and don't want to hire any professional programmers to build your project website then I suggest you get this free website template. It has unique sections, hero headers, footer links with social media, team section, price, section, and color combination. 
Nova – Free Project Showcasing One Page Bootstrap Template, is a very useful tool for business for a start-up company. 
Conclusion-
We are aiming and peaking towards the top and for the highly AI-first world and at this peak time for us and for tech and for software start-up to make a mark. With this IT Solutions and Technology-Driven WordPress Theme. We are sure you will be ahead of every tech- trend, and you will know how your future website will look like. 
Make Sure to Subscribe to our newsletter for the latest theme, templates, and free coded design resources to let you Structure and Fortunate Web-project without any sedulous dealing with coding skills. Don't Forget to Subscribe to our Youtube channel to get an instant video tutorial. Follow us on Facebook and Instagram to get Quick Tips, Educational Posts, infographics, and a lot more. 
Was this article helpful?